A photographer built a mouse a village and the pictures are adorable!
Dell a photographer, has created an adorable village for a little furry friend he found in his backyard.
Now there are not many people who would take the leap from seeing a small little mouse in their yard to setting up a full Village. But Dell is not just any people!
Dell is a photographer, and he knows a photographic moment when he sees one! Even when he has set the stage himself! He was outside photographing birds when something caught his eye.
With his photography reflexes he immediately moved his camera to the source of movement. What came into view was a little mouse, standing up in the grass and looking at him innocently.
He couldn't have resisted this moment if you try. But for our sake we're very glad he didn't. He then did the unthinkable. Dell built a tiny village for the little mouse, and it's fascinating.
Needing to earn his new friends trust first he was rushed out of the house to buy some peanuts. He had to convince the new buddy that he was not up to any ill. That sealed the deal.
A beautiful friendship began. Dell took things a little further by getting started on the project of building the mouse a home.
In the beginning it was just the one mouse, which he named George. But in a few days, Dell discovered that George had brought a friend.
"I decided to build them a home as I wanted to give them a safe place in the garden and not fall prey to cats or other animals. Also, I was feeding the mice it was the right thing to do as I would feel it was my fault getting them to come out if they became prey."
As Dell explained, there were cats often sitting on the other side of the fence ready to make a meal of his harmless little buddies. He also put up some wire fencing to keep the cats away. The shelter is even winter proof to help the mice survive the winter.
His actions were not entirely selfless. By making his new friends a home, he was also giving himself an amazing opportunity to take incredibly unique pictures. In fact, he had this intention from the very start.
"Being a wildlife photographer, I wanted to create a nice looking habitat for any pictures I would take."
The mice continued to grow in number and got to five, including a female who was obviously pregnant. But as their family grew so did the construction on their home.
But he didn't mind. A pregnant mouse can have a litter of 14. So, things could get easily out of hand within a short span of time.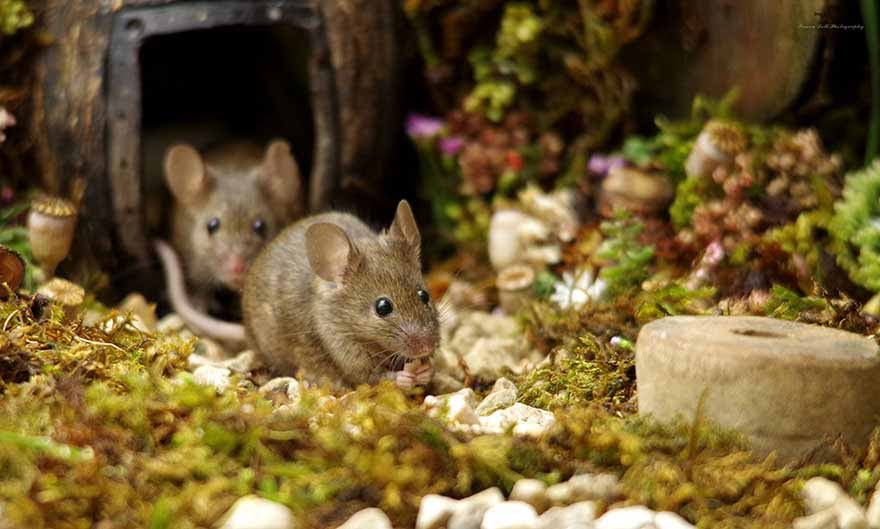 "… I have space and don't mind living alongside such cute and very photogenic little critters."
What Do They Eat?
He keeps it natural by providing them with berries, nuts, fruits, and seeds. And he treats them to mealworms and suet pellets once in a while.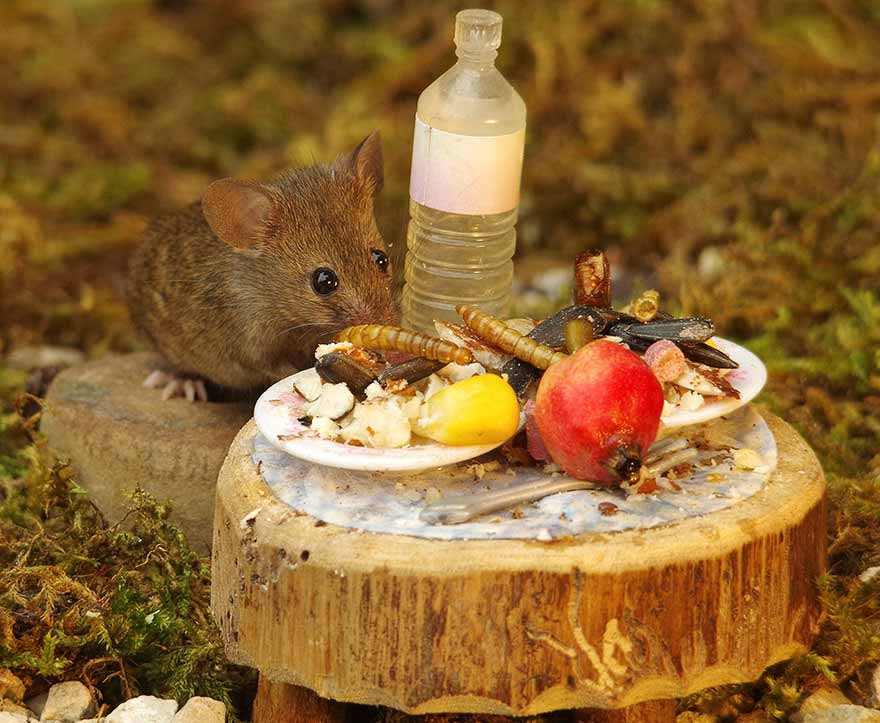 He has had a mouse before, He named him Stuart. But he took off never to come back, possibly in search of a mate.
But with George and his buddies keeping him company, I think Dell is doing just fine.